Hổ trợ trực tuyến
sales.ans@ansvietnam.com

Sales ANS: 028 3517 0401
Menu sản phẩm
Hãng sản xuất
Lượt truy cập
| | | |
| --- | --- | --- |
| | Đang online | 55 |
| | Lượt truy cập | 1779405 |
Hans schmidt Vietnam - Leak-Detect LDT-1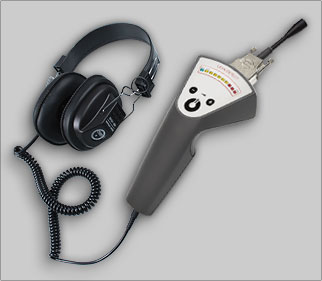 Loại sản phẩm: Other
Mã sản phẩm: Leak-Detect LDT-1
Nhà cung cấp: Anh Nghi Sơn
Xuất Xứ: chính hãng
Hãng sản xuất: Hans schmidt
Giá : Vui lòng liên hệ
Reduces the operating costs of compressed-air systems

For pinpointing leakages, especially in loud ambiance, where the leak is not hearable by ear as well for locating untight places in compressed-air systems where compressed-air escapes in a noiseless frequency.
The noise, which is created by air escaping from a leak, is detected by an ultrasonic receiver and converted in hearable noise and an optical indication
Leak-Detect LDT-1
Model Information
Print version
Special Features
for pinpointing leakages in compressed-air systems, pneumatic systems, valves, fittings, steam pipelines, oxygen sockets in hospitals as well as checking internal sealing of e. g. cockpits, pressure chambers etc.
For leakages with more than Ø 0.1 mm. Pressure of 1 bar is recommended.
For leakages with a diameter smaller than 0.1 mm, a higher pressure is recommended (e. g. 8 bar)
Measuring principle: Locating leakages by ultrasonic receiver
Signal indication over headset and LED indicator
For leakages at hard to reach places a gooseneck (260 mm) or a ultrasonic parabolic reflector (up to distance of 20 m) are optional available
Manufacturer calibration certificate is optional available
Standard Features
Easy to use
Rugged, handy plastic housing
Leak-detect for battery supplied operation
Photo Gallery
Visible indication of leckages by LED
Available Models
Model
Measuring Range
LDT-1
Leakages with diameter bigger than 0.1 mm
Flowing gas from a leakage is a typical ultrasonic acoustic source with defined frequency, which can not be heard by men.
Switch the leak-detect on by turning the potentiometer "Volume" clockwise until a light noise can be heard. The first yellow LED is on.
Move the unit with the sonsor into the direction of the tubes or pipes which are to be controlled. The leakage is located when the sound has increased and the red LED`s are illuminated.
Accessories (optional)
Probe




With gooseneck, Length 260 mm
Order number: 55001H

Click picture for more information
Ultrasonic Transmitter




For leakage-check of cabins of cars, cockpits or refrigerators etc.
Order number: 55003H

Click picture for more information
Ultrasonic Parabolic Reflector




with laser pointer
for pinpointing leckages at a distance from 5 - 20 m
Order number: 55006H

Click picture for more information
Charger



With 9 V rechargeable battery
Order number: 55004H
Delivery Includes
Leak-Detect with carrying case, 1 probe 110 mm, 1 headphone, 1 detection probe for small leakages < 0.1 mm, 1 battery, manufacturer`s calibration report and operating instruction in german or english (as requested)
Specifications
Field of application:
For leakages with diameter more than 0.1 mm and 1 bar pressure
Display:
LED and acustical
Power supply:
9 V battery or rechargeable battery
Housing:
Plastic (ABS)
Dimensions:
180 x 90 x 70 mm
Weight:
Device with probe 250 g / head phone 220 g
complete with carrying case: 1800 g