Hổ trợ trực tuyến
dieu.ans@ansvietnam.com

Ms Diệu: 0902.337.066
Menu sản phẩm
Ứng dụng
Hãng sản xuất
Lượt truy cập
| | | |
| --- | --- | --- |
| | Đang online | 35 |
| | Lượt truy cập | 1936577 |
Bumper Shredder MSHB-600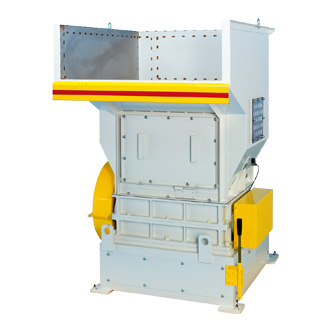 Loại sản phẩm: Granulator
Mã sản phẩm: Bumper Shredder MSHB-600
Nhà cung cấp: anh nghi sơn
Xuất Xứ: chính hãng
Hãng sản xuất: Matsui
Giá : Vui lòng liên hệ
Crushes big molding products such as bumper, instrument panel and door trim into smaller sizes which is then fed into granulator. Save space, installation and running cost and reduces noise.
1.High capacity and energy saving
●Low horse power (2.2kW) with high shredding capacity of 200~350kg/h
●The plate shape of shredded materials (approx.100mm×60mm) maximizes the capacity of granulator.
●Reduces mis-cut by changing the rotating speed of shredder's two axises
2.Ease of work
●Once a part of the bumper is being shredded, the remaining is being automatically fed into the shredder.
●Wide width of feeding hopper (900×590mm) allows big material like instrument panel to be fed.
●Sensor informs the completion of shredding to ensure uniformity. (Option)
●Shredding capacity can be changed by changing the rotating speed of inverter (Option)
3.Quiet
●Hopper made of soundproof steel minimizes noise pollution. (80dbA or less : for PP)
4.Easy Cleaning
●Sight glasses are mounted at both sides and cleaning port is widely mounted in the front (540×400mm), making daily maintenance ans cleasning easy.
5.Saves space
●Saves space. Occupies only 1100mm×1486mm
6.Safe
●Safety bar (Standard equipment)Shredder can be stopped by touching the yellow and red part of this bar in the case of emergency.